Saiseikai Yokohamashi Nanbu Hospital
---
---
Protect the lives and health of the community and citizen

The mission of Saiseikai Yokohamashi Nanbu Hospital, which has remained the same since the opening of the hospital, is to protect the lives and health of the people of the community as a regional core hospital by providing safe and high-quality medical care.

The mission is unalterable before and since even though local circumstances and medical environments have dramatically changed since our opening on June 10, 1983.

Keeping the mission in mind, each of us provides high-quality medical care always trying to deepen mutual cooperation with other staff members and making every effort to improve one's skills and techniques as a medical professional.

We will play a role as an acute phase hospital getting a step ahead, make efforts to enhance the medical care that is expected from the people in the community, such as emergency medical care, pediatric care and perinatal care, and continue to provide safe and high-quality medical care.

500 beds
ICU/CCU 8 beds, NICU 6 beds, Bio clean room 11 beds
Internal medicine, Gastroenterology, Pulmonology,Nephrology, Diabetes and Endocrinology, Neurology, Hematology, Rheumatology, Cardiology, Psychiatry, Pediatrics, Neonatology, General Surgery, Orthopedic Surgery, Neurosurgery, Cardiovascular Surgery, Thoracic Surgery, Dermatology, Urology, Obstetrics and Gynecology, Ophthalmology, Otolaryngology, Rehabilitation, Radiology, Plastic and Reconstructive Surgery, Emergency department, Dental and Oral Surgery, Anesthesiology, Pathology, Palliative Care Medicine
Monday to Friday: 8:30 to 11:00
Closed: Second, fourth and fifth Saturday, Sunday, Public holidays
Emergency department opens for 24 hours.
Address
3-2-10, Konandai Konan-ku , Yokohama City, kanagawa 234-0054, Japan

Tel
+81 45 832 1111
The hospital is a 3-minute walk from Konandai station (JR Negishi-line, Kanagwa Chuo Route Bus, and Route Bus of Yokohama City Transportation).
General information regarding parking
111 spaces(include for disabled users)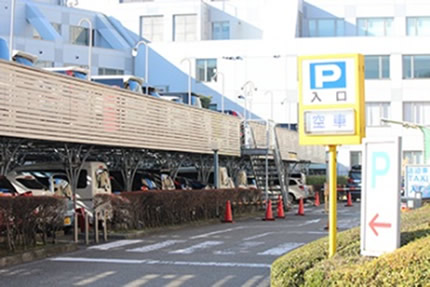 For out patient: 300yen for the first three hours and an additional
100yen for every 30minites onwards.

Others(include visiting): 400yen for the 1 hour and an additional
200yen for every 30minites onwards.